- The Latest News -
SSG7 V v1.4.0 has been released.
(Aug. 10, 2022)
KMG7 V v1.4.0 has been released.
(Aug. 10, 2022)
SSG7 V v1.3.0 has been released.
(Jul. 18, 2022)
KMG7 V v1.3.0 has been released.
(Jul. 18, 2022)
SSG7 V v1.2.1 has been released.
(Jul. 3, 2022)
KMG7 V v1.2.1 has been released.
(Jul. 3, 2022)
KV88 has been released.
(May. 30, 2022)
SSG7 V v1.2.0 has been released.
(May. 26, 2022)
SSG7 V has been released.
(Apr. 17, 2022)
KMG7 V has been released.
(Mar. 6, 2022)
| | | |
| --- | --- | --- |
| Information | | |
VST plugins
---
Metal Guitar "SSG7 V"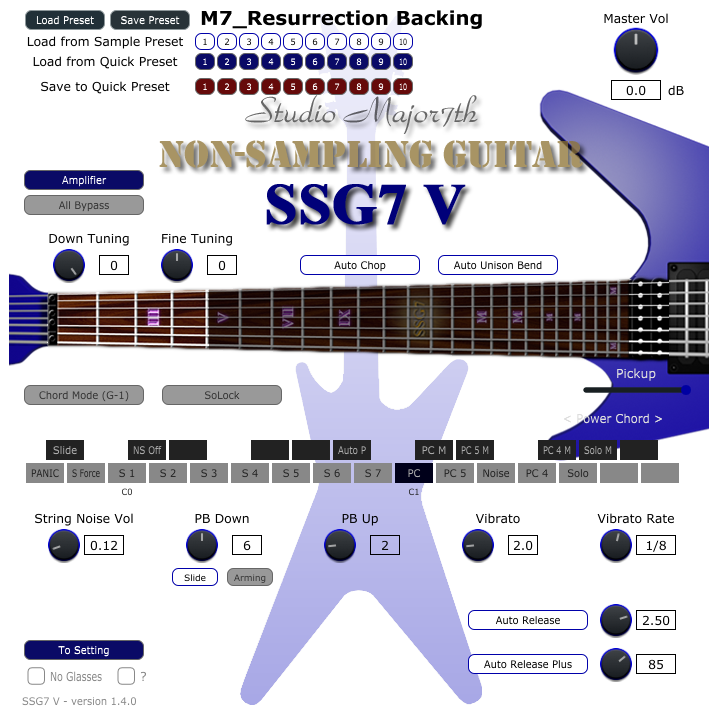 ---
It's finally out! SSG7 V, a metal guitar VST that doesn't require samples!
You don't need large samples for guitar instruments anymore! SSG7V is sample-free and doesn't require a lot of memory! And since SSG7V has a built-in amp simulator, you can get heavy guitar sounds with just one unit!